Panorama Views
Highlights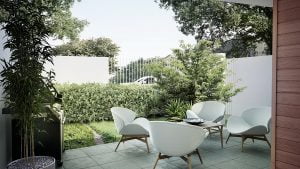 Project Details
This development is fully subscribed.
A 5-townhouse development in the growing suburb of Stafford. These properties are 3 bedroom homes with 2.5 bathrooms. Panorama Views is raising the bar and changing expectations of homes in this sleepy postwar suburb.
Stafford is another suburb in Brisbane's north that provides optimal connectivity to the CBD, Airport, and Trade Coast which is why this site was selected. Stafford is 6 kilometres from the CBD, 3.4 km² in size, and home to 6,561 people.
Our chosen architect for this Development is Base Architecture, a multi-award winning firm located in Queensland with specialist knowledge and experience working in the area. Base Architecture have completed over 330 projects since their founding in 2004 and have received over 18 awards from the Royal Australian Institute of Architects.
---
Property Information
Five total homes
One 2-bedroom townhouses
Two 3-bedroom townhouses
Two 4-bedroom townhouses
Designed by award-winning firm Base Architecture.
---
Location
Originally called Happy Valley, Stafford is a residential suburb with Queenslander-style homes and large quarter-acre blocks. Formerly a post-war suburb, Stafford is seeing an influx of young families looking for homes close to the Brisbane CBD. Stafford lives up to its former name, offering residents a short commute to the CBD, plenty of employment opportunities, amazing weather year-round, and continually improving amenities.